Higher resolution. Faster speed. Greater versatility.
The D850 puts staggering image quality and impressive performance within reach of working photographers everywhere.
45.7 Megapixel CMOS Sensor
At the heart of the D850 is a back-side illuminated (BSI) FX-format full-frame CMOS image sensor with 45.7 megapixels and no optical low-pass filter. A marvel of ingenuity, it achieves extraordinary image quality, enhanced light gathering efficiency, faster data readout and truer color with virtually no risk of moiré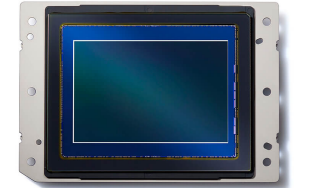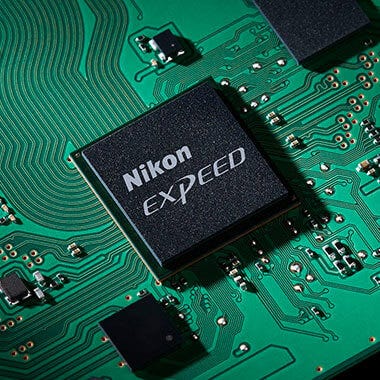 EXPEED 5 Image Processing
EXPEED 5 quickly processes all 45.7 megapixels of data for lower noise, wider dynamic range, subtle tonal and textural details, high-speed continuous shooting at approx. 9 fps* and full-frame 4K UHD movie recording.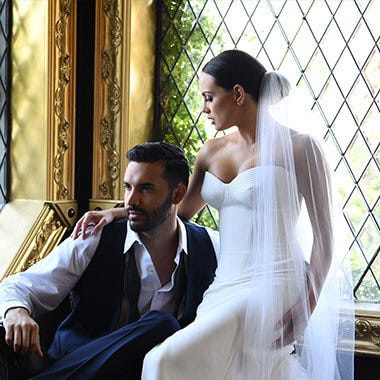 Dynamic Range Down to ISO 64
The lower the ISO, the greater the dynamic range. Like the D810 before it, the D850 has the lowest base ISO of any DSLR or mirrorless camera**—ISO 64 (expandable down to ISO 32).
Precision at Every Turn
Fast continuous shooting, flagship autofocus and precise metering.
7 FPS Continuous Shooting Speed.

9 FPS With Optional MB-D18 Battery Grip & EN-EL18b/a Battery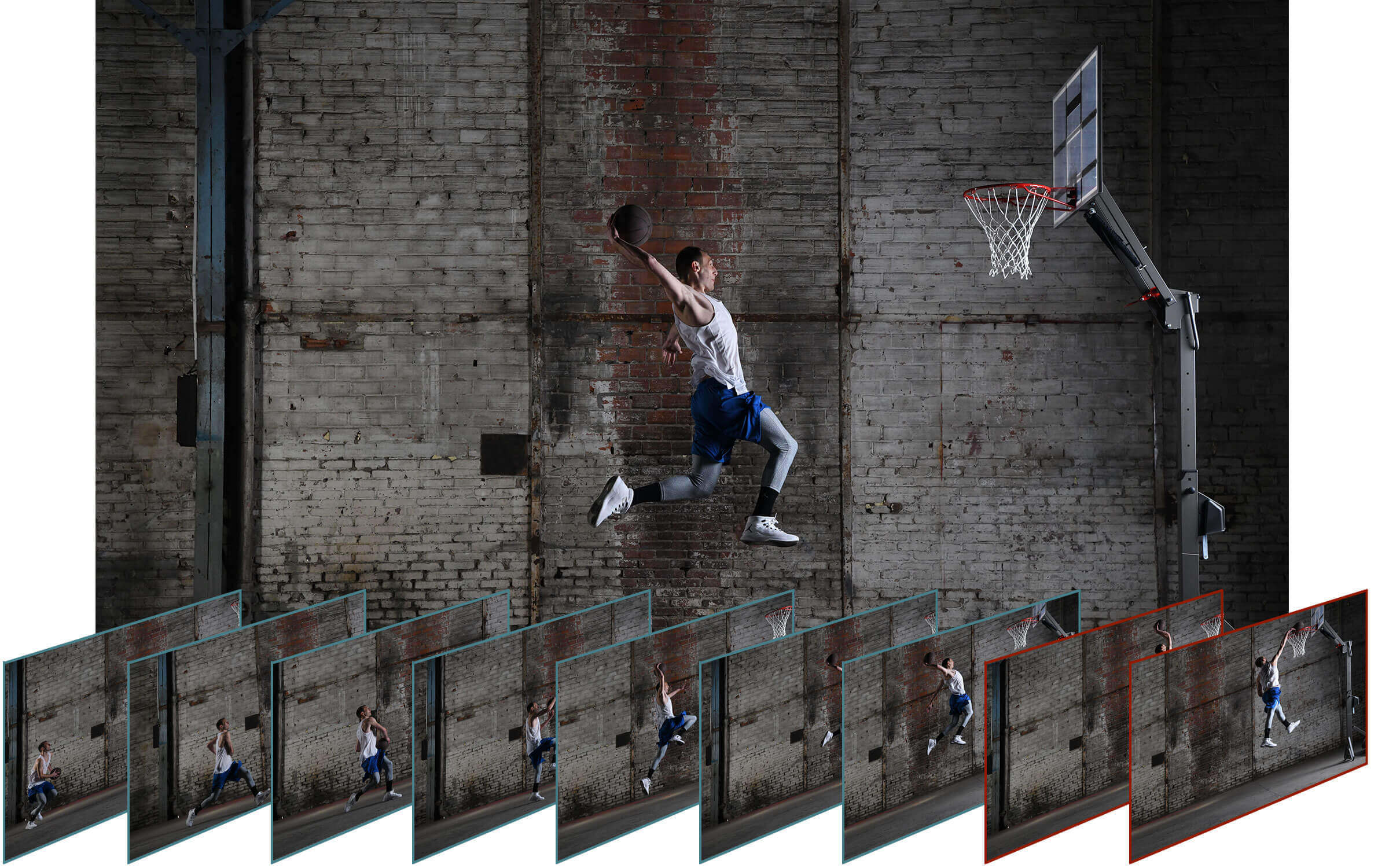 Speed to Match Your Vision
With a continuous shooting speed of 7 fps or 9 fps using the optional MB-D18 battery pack with EN-EL 18b/a Lithium-ion Battery, the D850 can capture those perfect moments in action from a bride walking down the aisle to gravity-defying sports shots at it's full 45.7 MP resolution.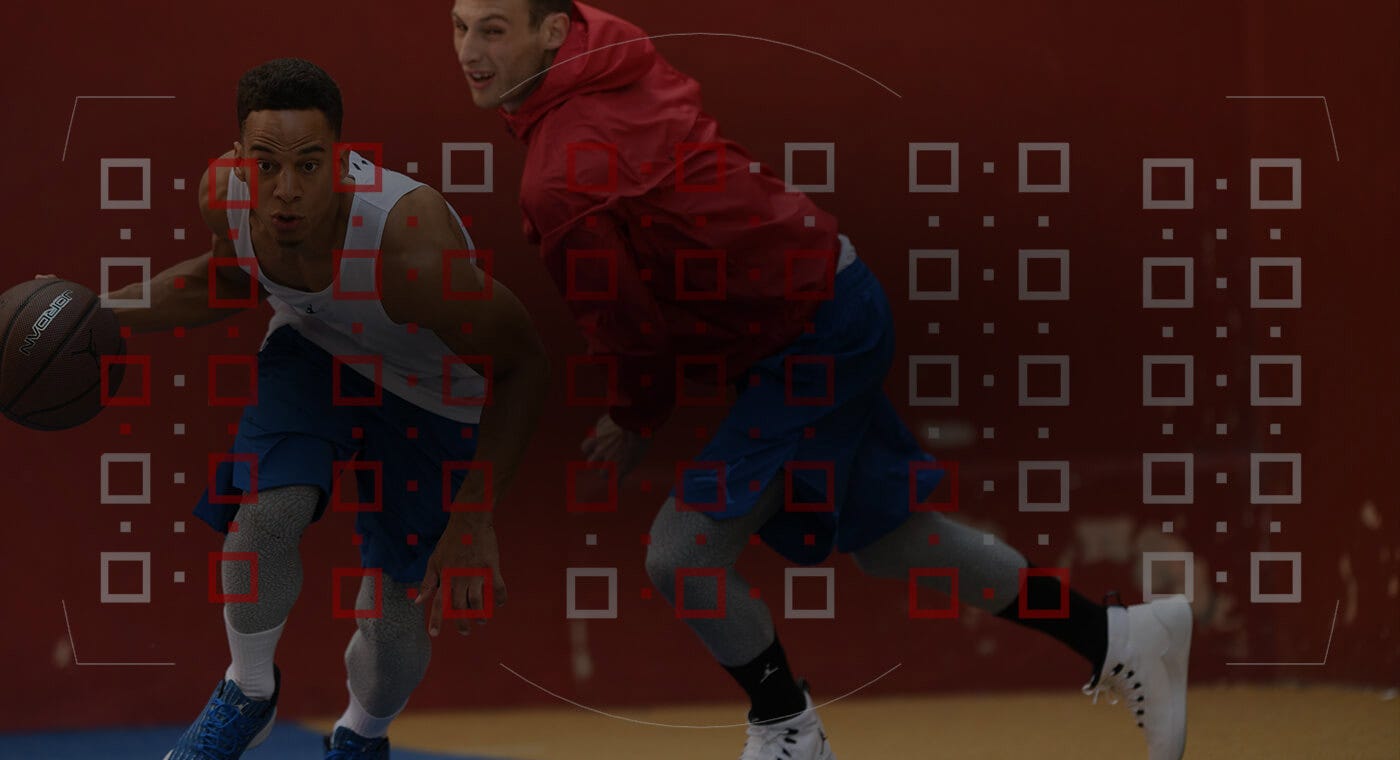 153 Point AF System
With 153 focus points, 99 cross-type sensors and a dedicated AF processor, the D850 combines the best of flagship AF technology so that you can be assured that your high resolution images are as sharp as can be.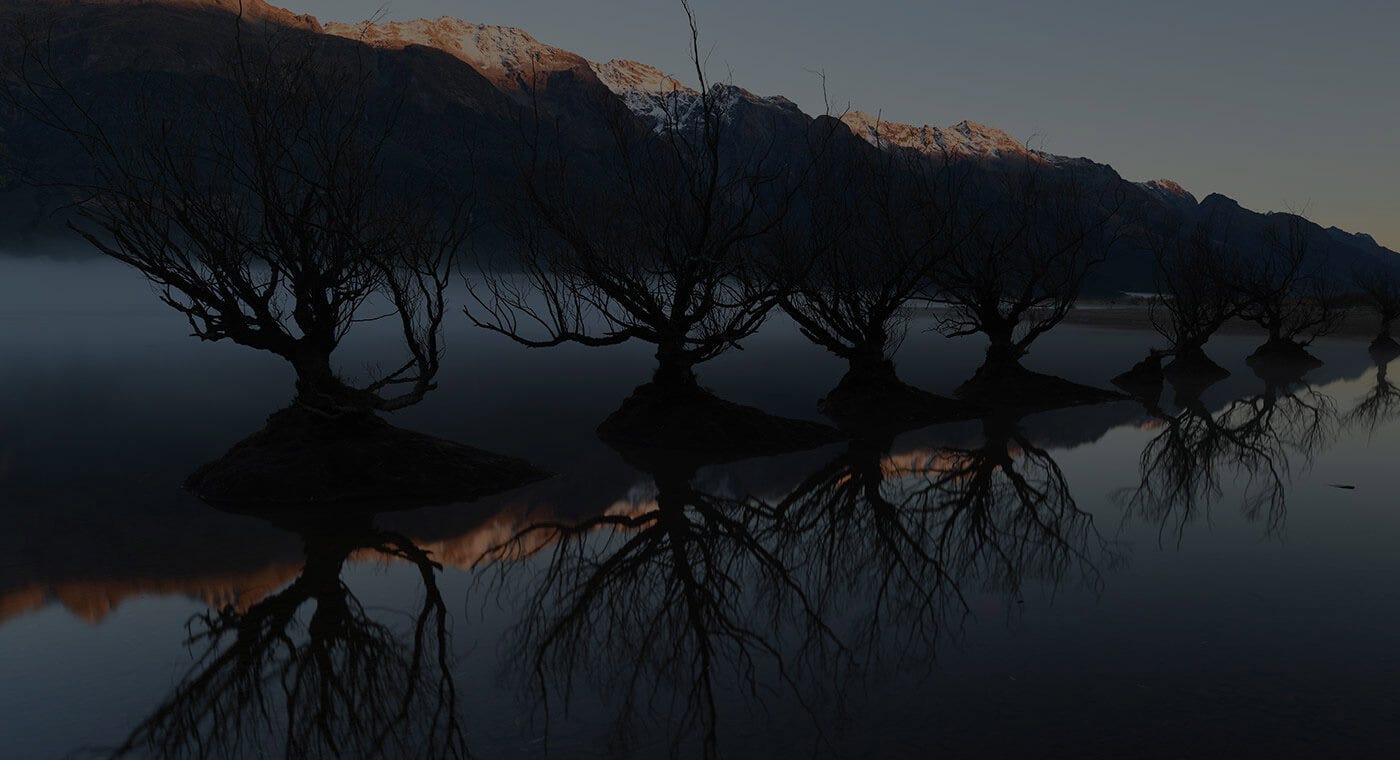 Autofocus Down to -4 EV
Focus in near darkness down to -4 EV to capture moody low-light scenes. Suddenly, fast NIKKOR primes and zooms can handle even lower light than before.
Full Frame 4K UHD
Record 16:9 4K Ultra HD (3840x2160) in full frame glory using the total width of the D850's back-side illuminated CMOS sensor. Take advantage of the large sensor size for clean output at high ISO and for shooting with zero crop factor with full-frame NIKKOR lenses, including wide and ultra-wide angle lenses.
4K and 8K Time-Lapse
Create jaw-dropping 4K time-lapse movies right in-camera or exquisitely-detailed 8K time-lapse sequences of up to 9,999 full-size stills using D850's Interval Timer Mode.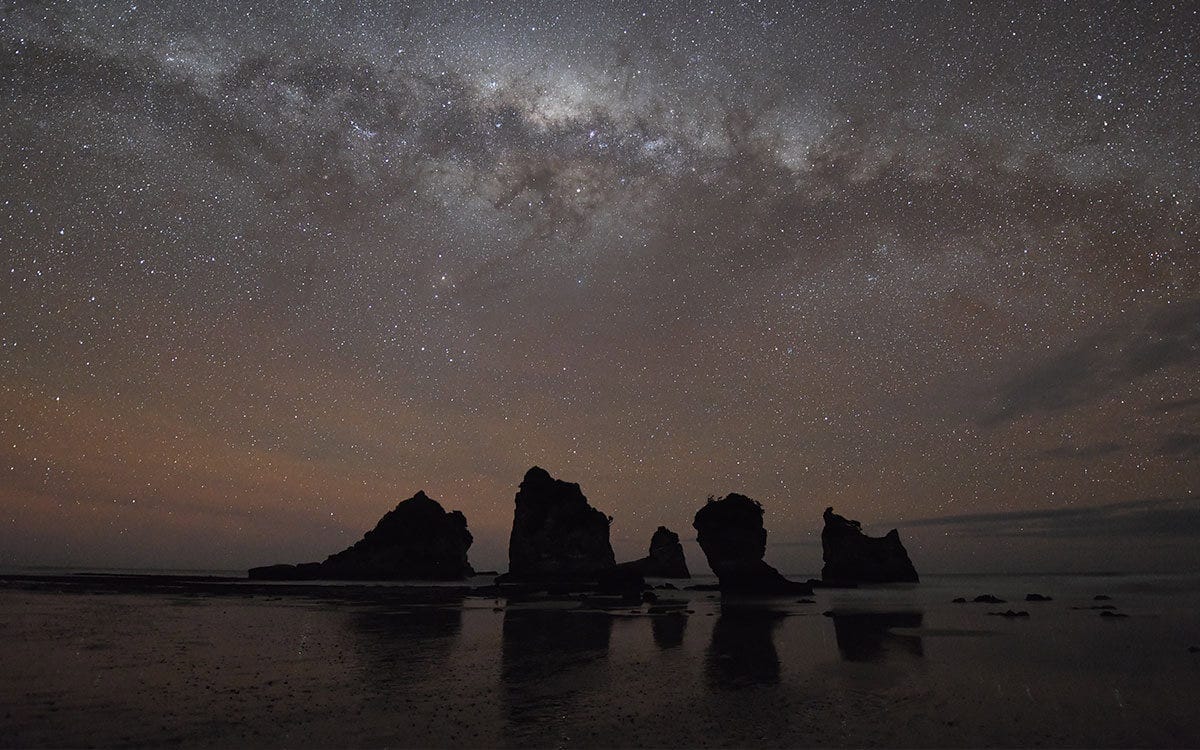 120 fps Slow-Motion
Transform dramatic moments into dazzling fluid slow-motion sequences. Record 4x (shoot at 120p, playback at 30/25p) or 5x (shoot at 120p, playback at 24p) slow-motion at 1080p.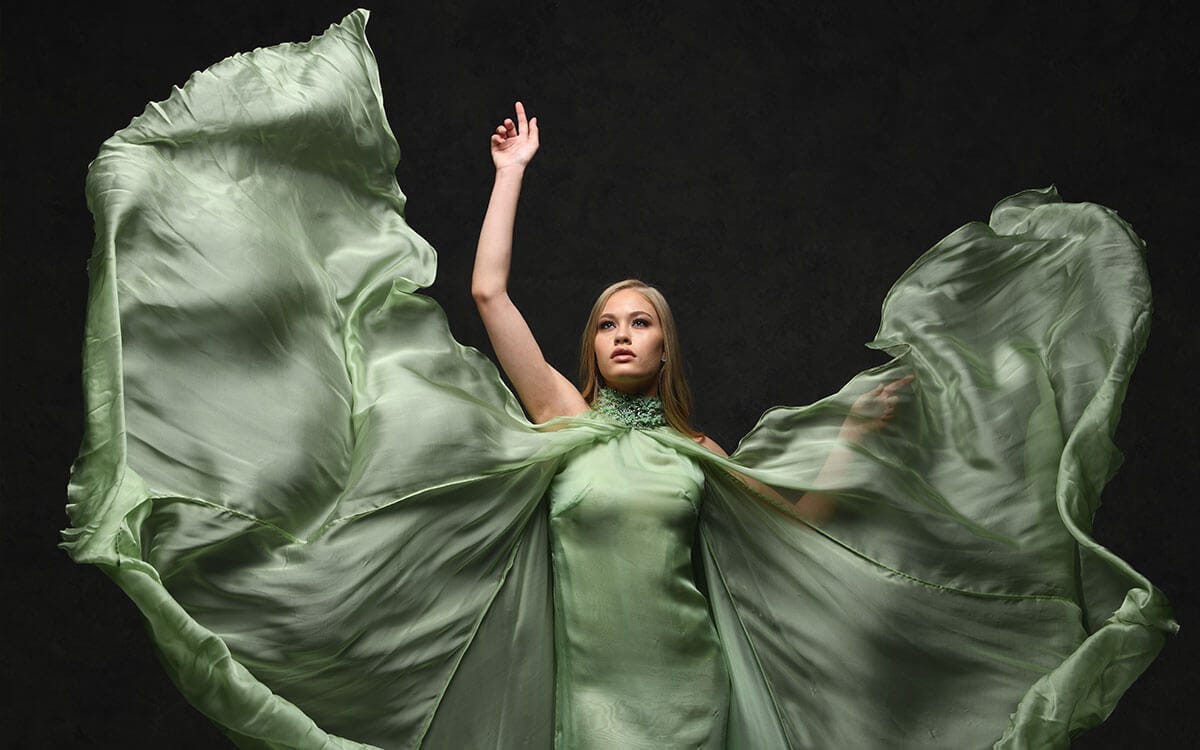 Versatile Sound Controls
When audio levels rise unexpectedly, D850's sound attenuator automatically reduces the microphone sensitivity to prevent distortion and maintain smooth recording with clear sound.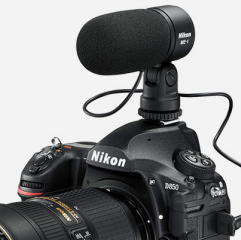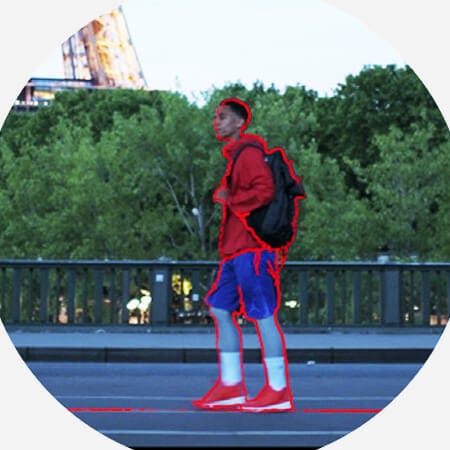 Focus Peaking
Confirm your manual focus with Focus Peaking. Select high, medium or low sensitivity and red, yellow, blue or white highlights.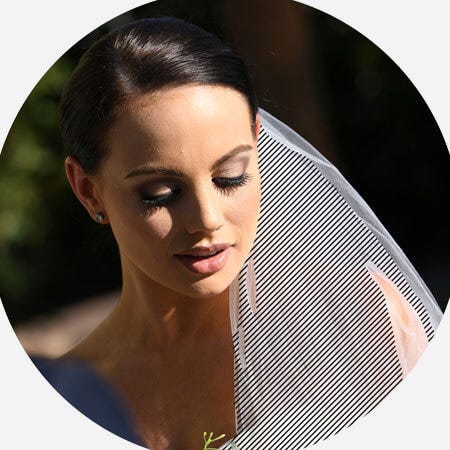 Selectable Highlight Detection
Avoid overly bright or blown-out highlights in your videos with D850's three selectable Zebra Stripes highlight detection patterns.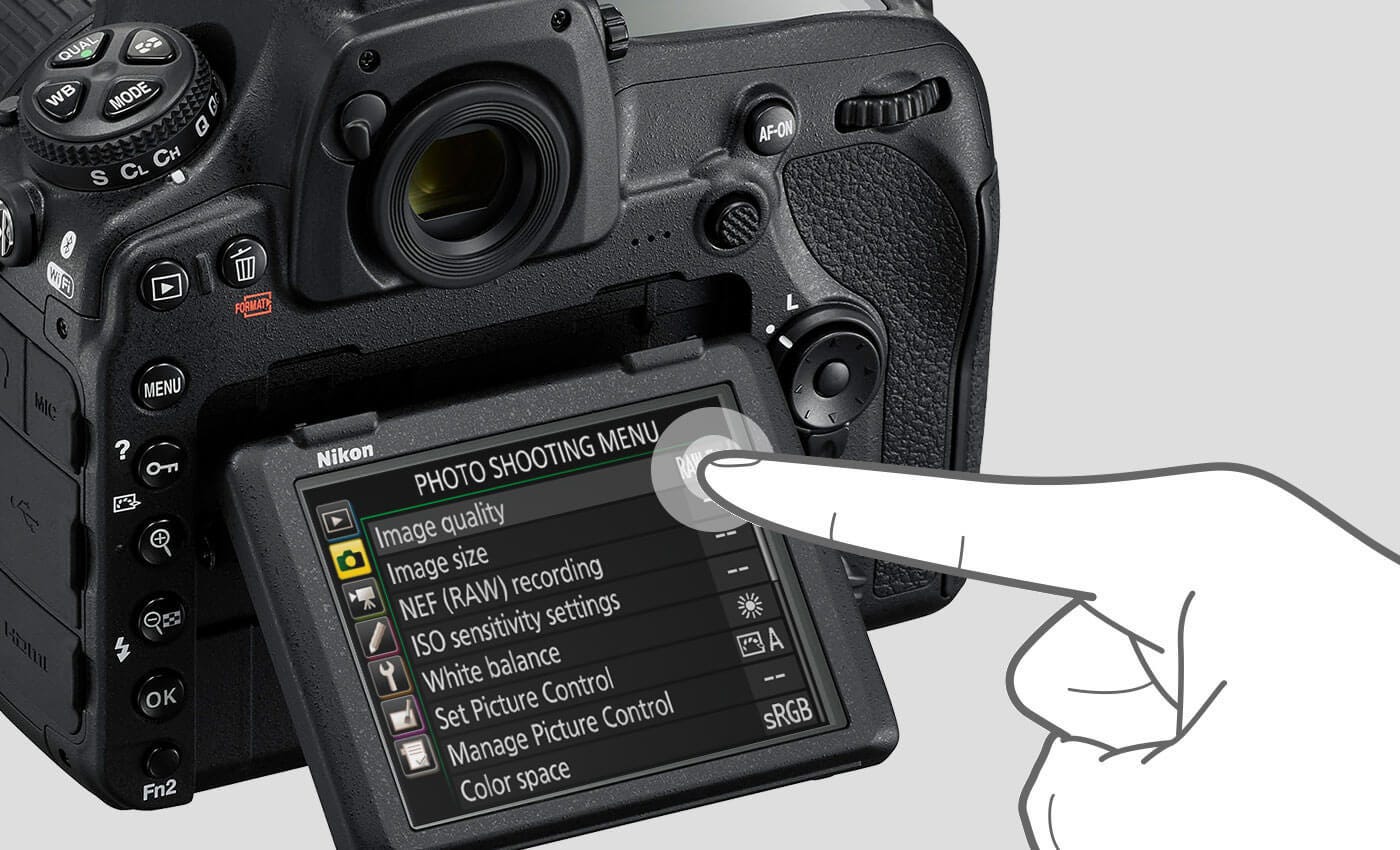 Tilt and Touch
The tilting touchscreen LCD makes it easy to get the shot, even from high or low angels. Use Touch AF, Touch Shutter control and navigate menus, playback and more as if you were using a touch-enabled smart device. Zoom in during Live View shooting and use the new Pinpoint AF to put focus right where you want it.
Focus Stacking Made Easy
Create images with extraordinary depth of field using Focus Shift Mode. Set focal steps from 1 to 10 for up to 300 automated shots and D850 will automatically shift focus between shots and collect the images in a dedicated folder for easy identification when using 3rd party focus stacking software.
Do Not Disturb
When silence is golden - shooting golf, press conferences, weddings and more - turn on Silent Photography in Live View and capture without sound or mechanical vibration. In mode 1, shoot for up to 6 fps continuous at 45.7 MP. In Mode 2, shoot approx. 8.6-megapixel pictures in DX image area at approx. 30 fps for up to 3 seconds.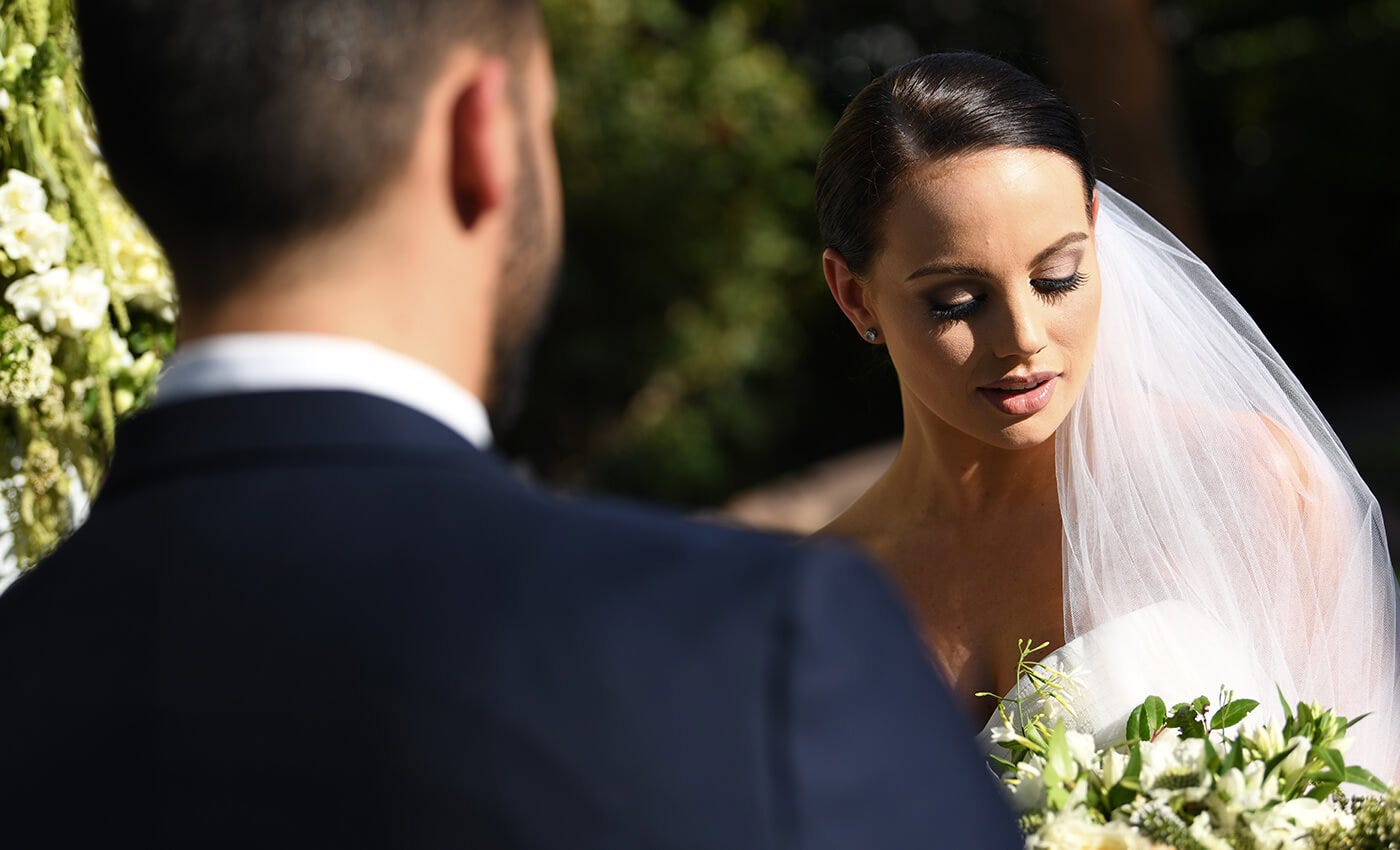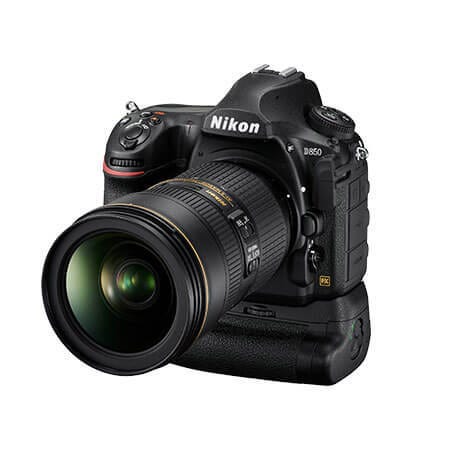 Battery Grip
Add the new MB-D18 Multi Battery Power Pack for improved handling with telephoto prime or telephoto zoom lenses, and increase your shooting speed to 9 fps at full resolution.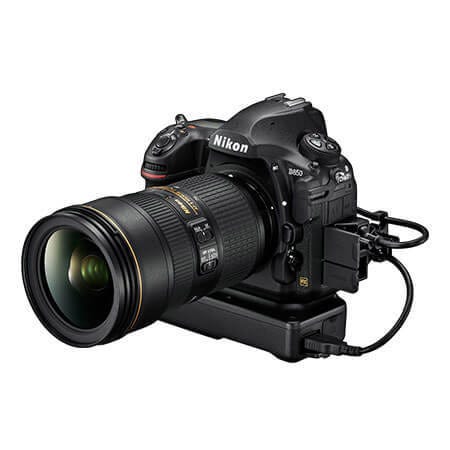 Wireless Transmitter
When you've got a deadline, transfer speed can make all the difference. Transfer images and movie files to a PC or FTP server via wired LAN/wireless LAN using the optional WT-7 Wireless Transmitter.
Negative Digitizer
Digitize the gems from your film days at D850's full 45.7 MP using the new optional ES-2 Film Digitizer Adapter on a compatible Micro-NIKKOR lens.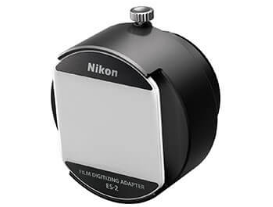 WR-A10/R10 Transceiver
When combined with the optional WR-A10/R10 transceiver, the D850 can control and wirelessly fire radio controlled SB-5000 Speedlights from another room, around corners or outdoors in bright sunlight.
Define Your Style
Control the look of your photos and videos with Nikon's Picture Control System. Spend more time in the field focusing on being creative and less time post-processing. Select Auto Picture Control and let the D850 optimize the look for your specific shot.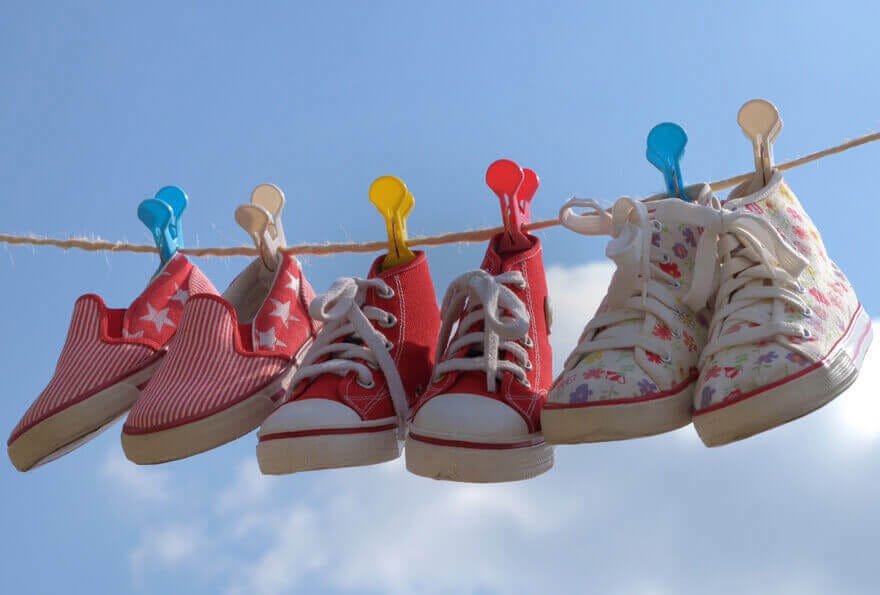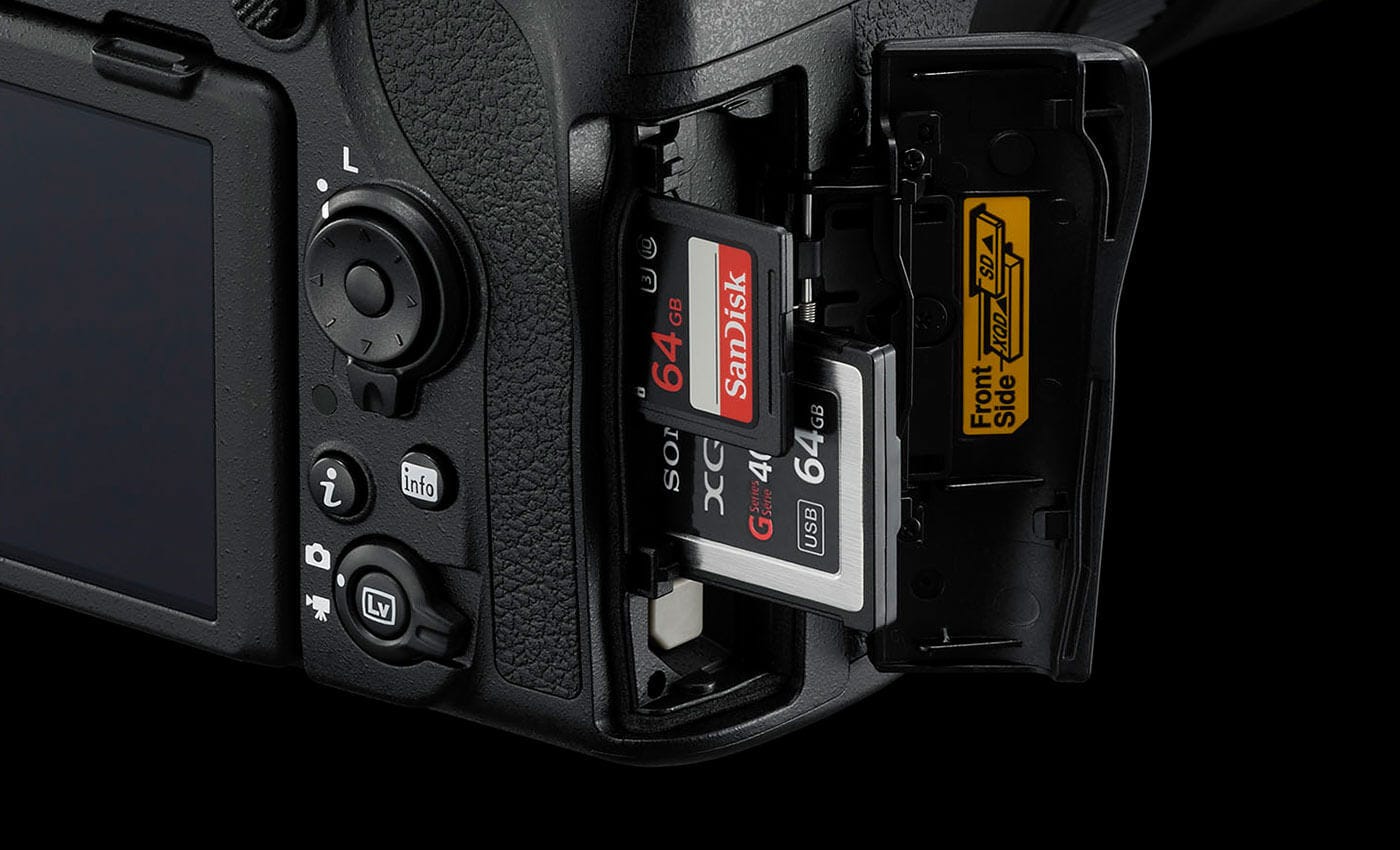 XQD Storage
Using optional XQD storage allows for optimum handling of D850's incredible high resolution files and shooting speeds. SD can be used for back up, overflow or just as extra storage space.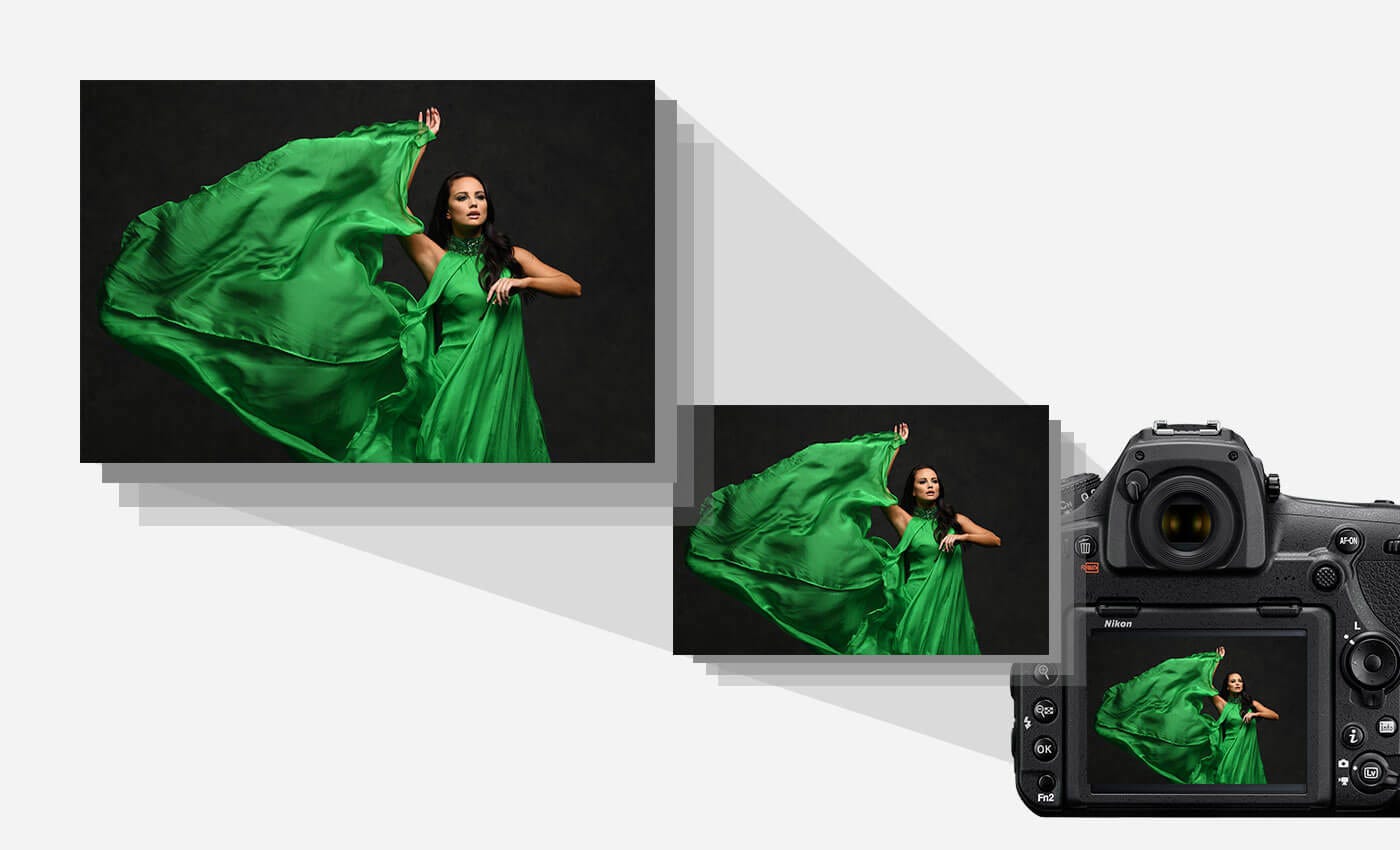 Streamlined Workflow
Seamlessly switch between RAW sizes of Large (45.4 MP), Medium (25.6 MP) and Small (11.4 MP), whichever fits your need or workflow. Save time with RAW batch processing right in the camera.
Built-in Wireless Connectivity
Transfer images to a compatible smartphone or tablet instantly using Nikon's SnapBridge app and the D850's constant Bluetooth Low Energy connection.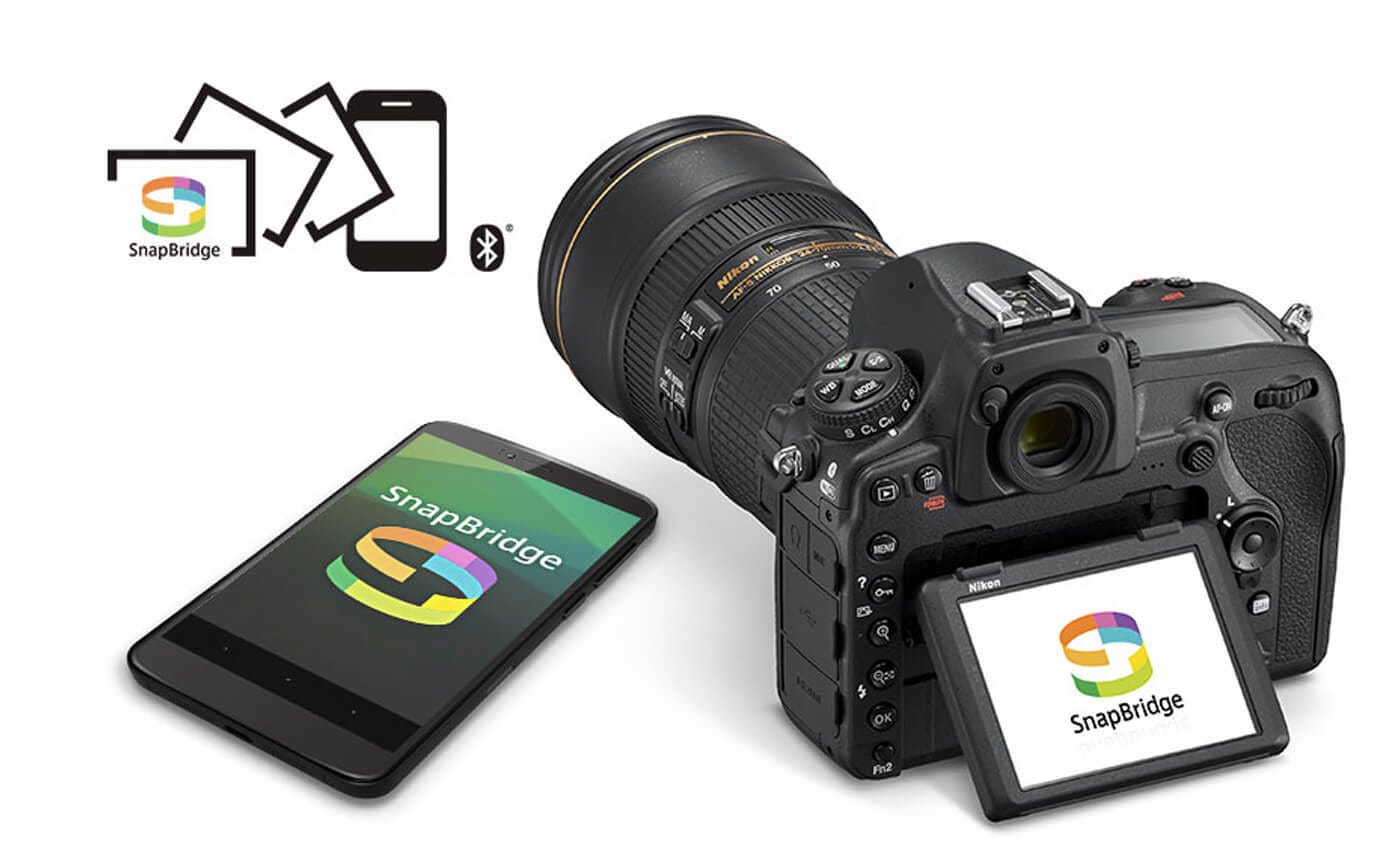 Designed to Outperform
Whether in the studio or on-location, from the catwalk or the scenic overlook to a wedding ceremony or night sky, the Nikon D850 is the versatile tool to capture all, with astounding resolution and speed.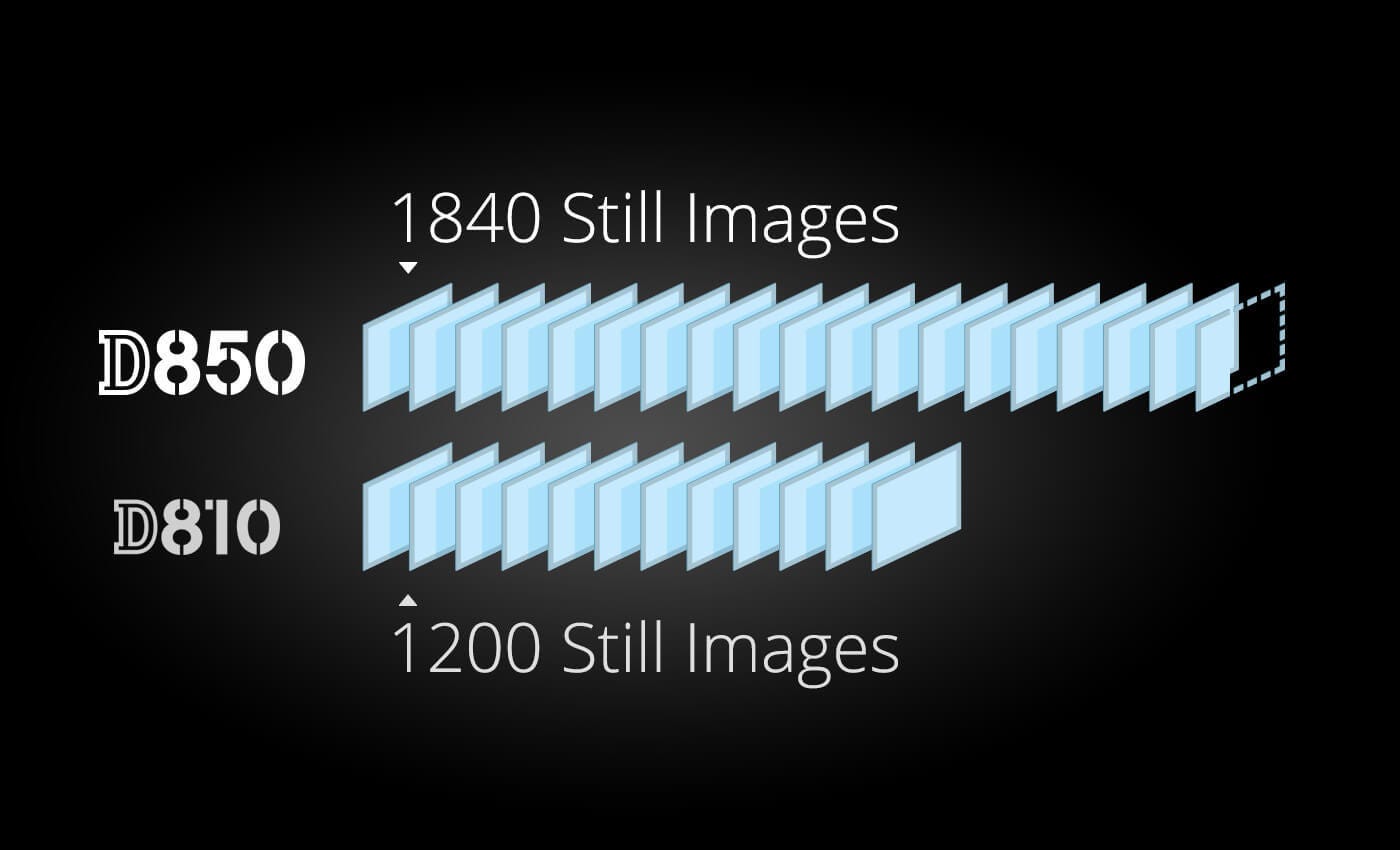 Phenomenal Battery Life
All day shooting shouldn't require frequent battery changes. The D850 is extremely energy efficient and can shoot approx 1,840 shots at full resolution or approx. 70 minutes of video on a single charge.
Built Rugged
The D850 is built for extreme durability using rugged magnesium alloy and carbon fiber materials. The sturdy camera body protects the sophisticated technologies inside against accidental shock.
Withstand the Elements
The D850 has extensive weather and dust sealing applied to its joint parts and seams, allowing you to shoot with confidence, even in harsh weather conditions and the most extreme environments.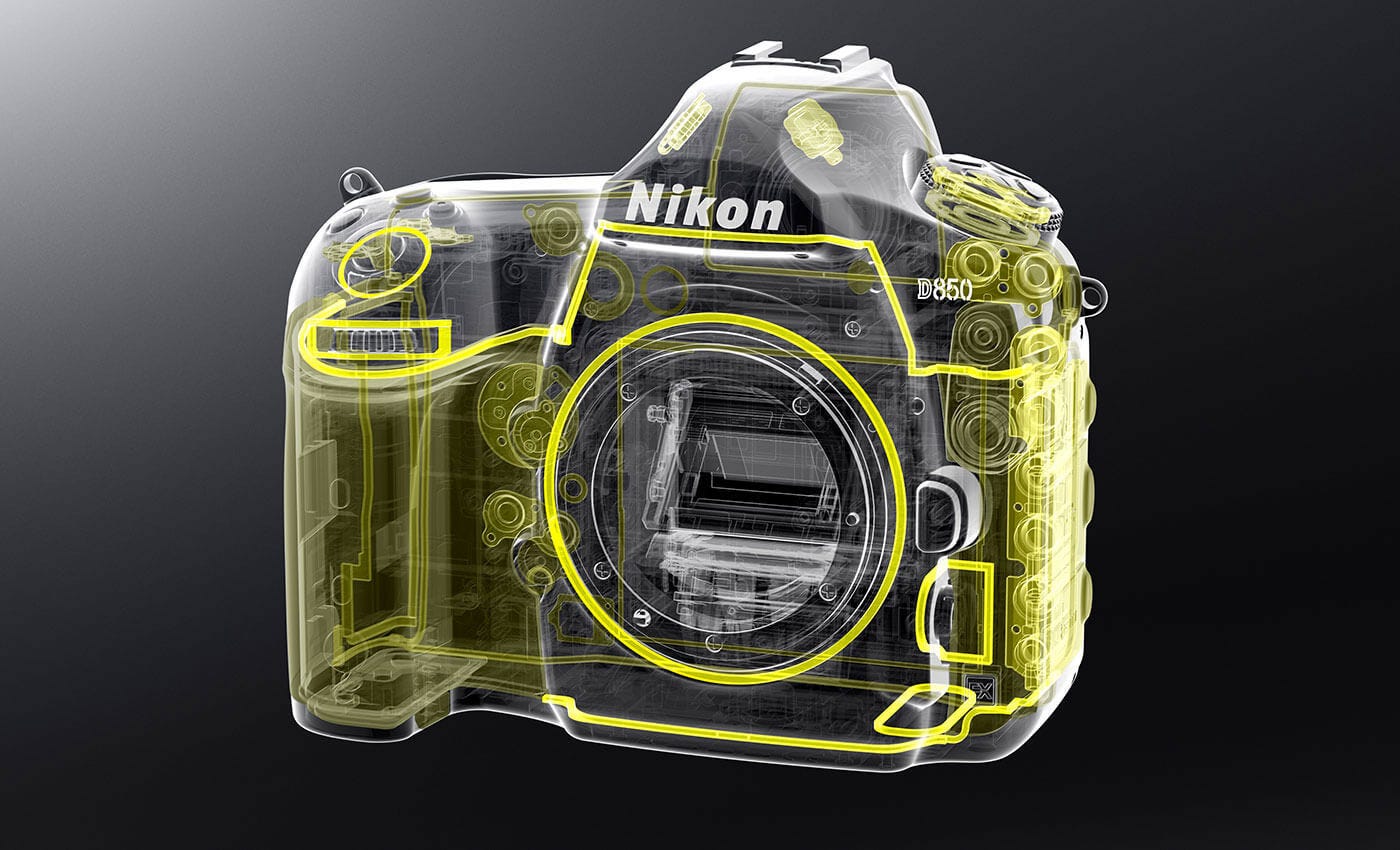 For shooting stills in continuous AF, the INKMBD18 battery grip increases your total shot count to approx. 7,700 shots on a single EN-EL18a/b battery or up to 145 minutes of HD video. You will need: INKMBD18, INKENEL18B or INKENEL18A, INKMH26AK, INKBL5. (INKMBD18 battery grip works with INKENEL15 in regular mode)